This year, Light Night came to Leeds on Thursday 4th to Friday 5th October. For two nights only, Leeds city centre was transformed by astounding art installations, interactive creations, light projections and performances. 
The 14th Light Night is an eclectic mix of art, music, dance and street performance. 
What is Light Night and why does it matter?
This year, over 60 arts events were held across the city centre. The city was split into 'zones' so visitors could clearly recognise which areas held the works of art they were interested in.
The theme of this year's event was progress and innovation. This was highlighted with the event's illuminated parade on Thursday night, which celebrated 100 years since (some) women got the vote.
The event highlighted important social and community changes and issues. This provided thought-provoking talking points for locals and visitors. Many took to social media to share photographs of the event, sparking further interest and creating a vibrant and connected online community.
Art in the dark – 2018 Light Night highlights
International artists developed an incredible range of impressive creations that popped up around the city.
– Leeds Civic Hall transformed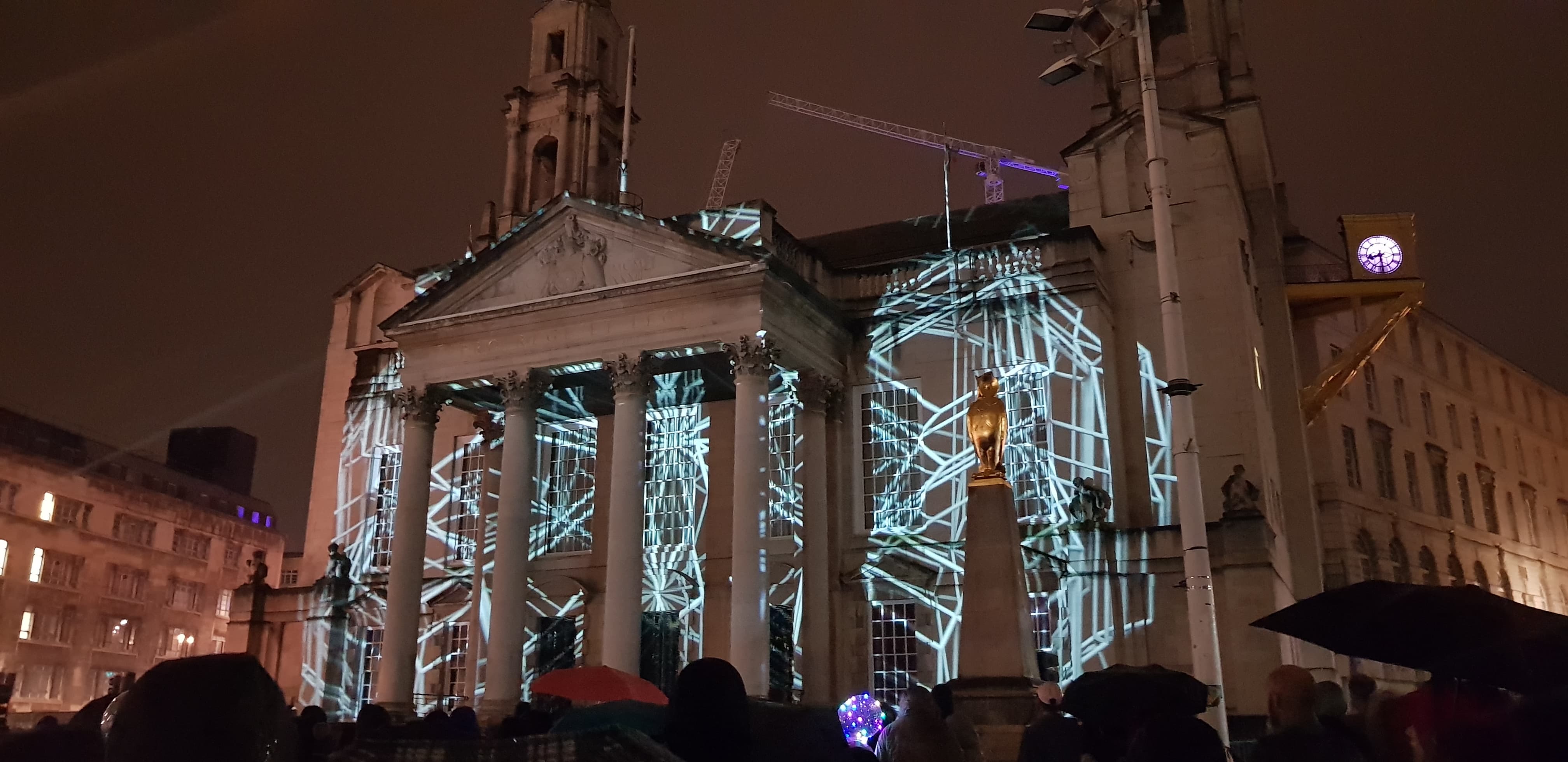 Chaos at Millennium Square drew in the crowds. Hundreds gathered to see the light projection at Leeds Civic Hall – and it didn't disappoint. The piece explored the beauty of chaos, bringing intricate visuals and sound together to create an impressive spectacle.
– Leeds suffragettes at The Leeds Library
A Certain Amount of Courage certainly showed the library in a new light. Seeing historical, iconic Leeds buildings reimagined particularly captured the audience's interest. This is perhaps due to its limited nature – a one-off installation we're unlikely to ever see again.
– The humanoids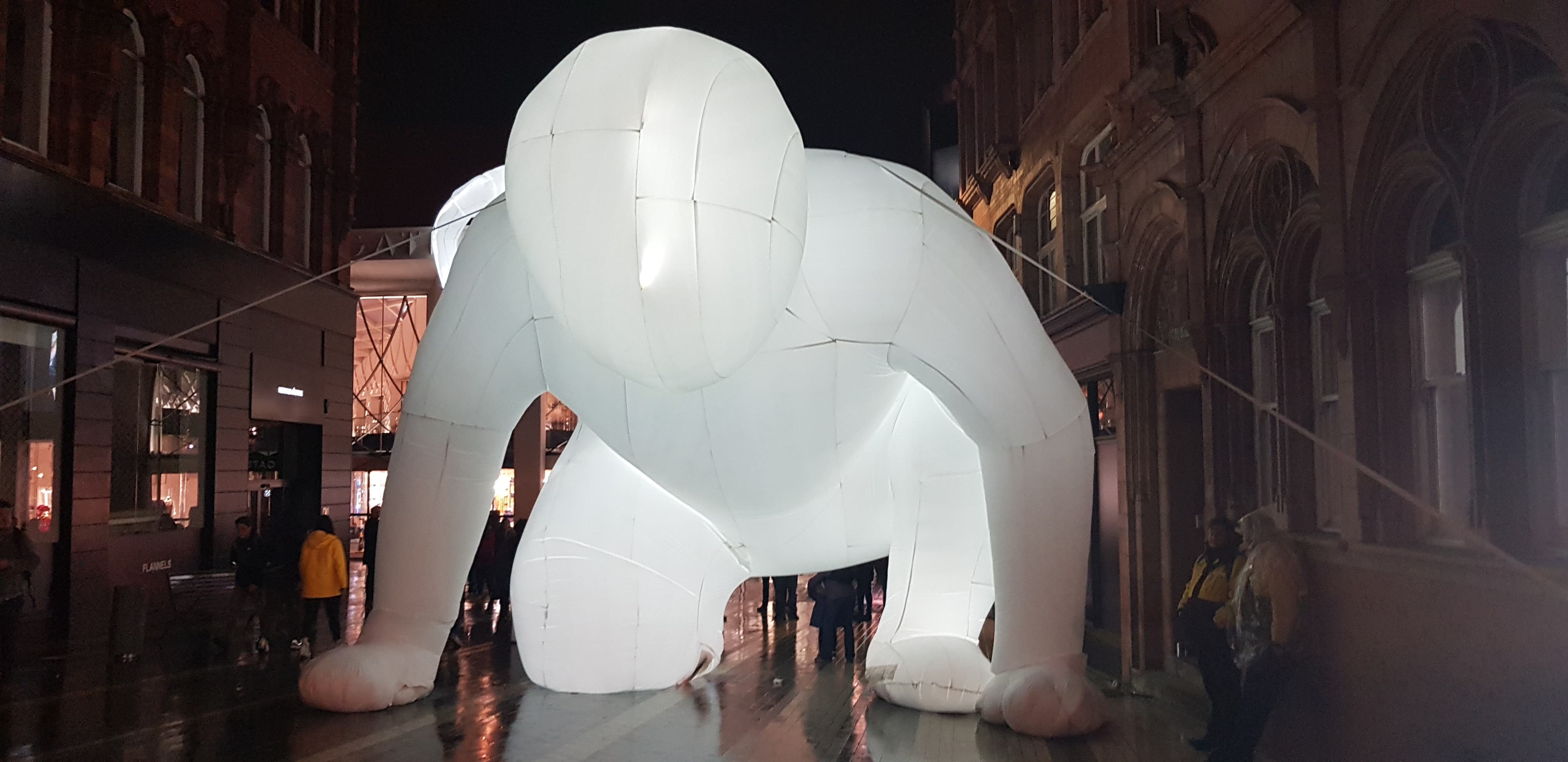 Fantastic Planets was a series of giant illuminated humanoids, created by Amanda Parer. These huge bodies climbed over buildings and took over walkways (…and Instagram).
– The Rainbow Platform at Platform Building
This epic installation encouraged social media users to get involved. Using #enlightenleeds, members of the public suggested a colour and a single word, up to 9 letters long, to express how they feel about Leeds. Chosen words were then beautifully illuminated on an 18 metre long display.
– The dragon at Queen's Hotel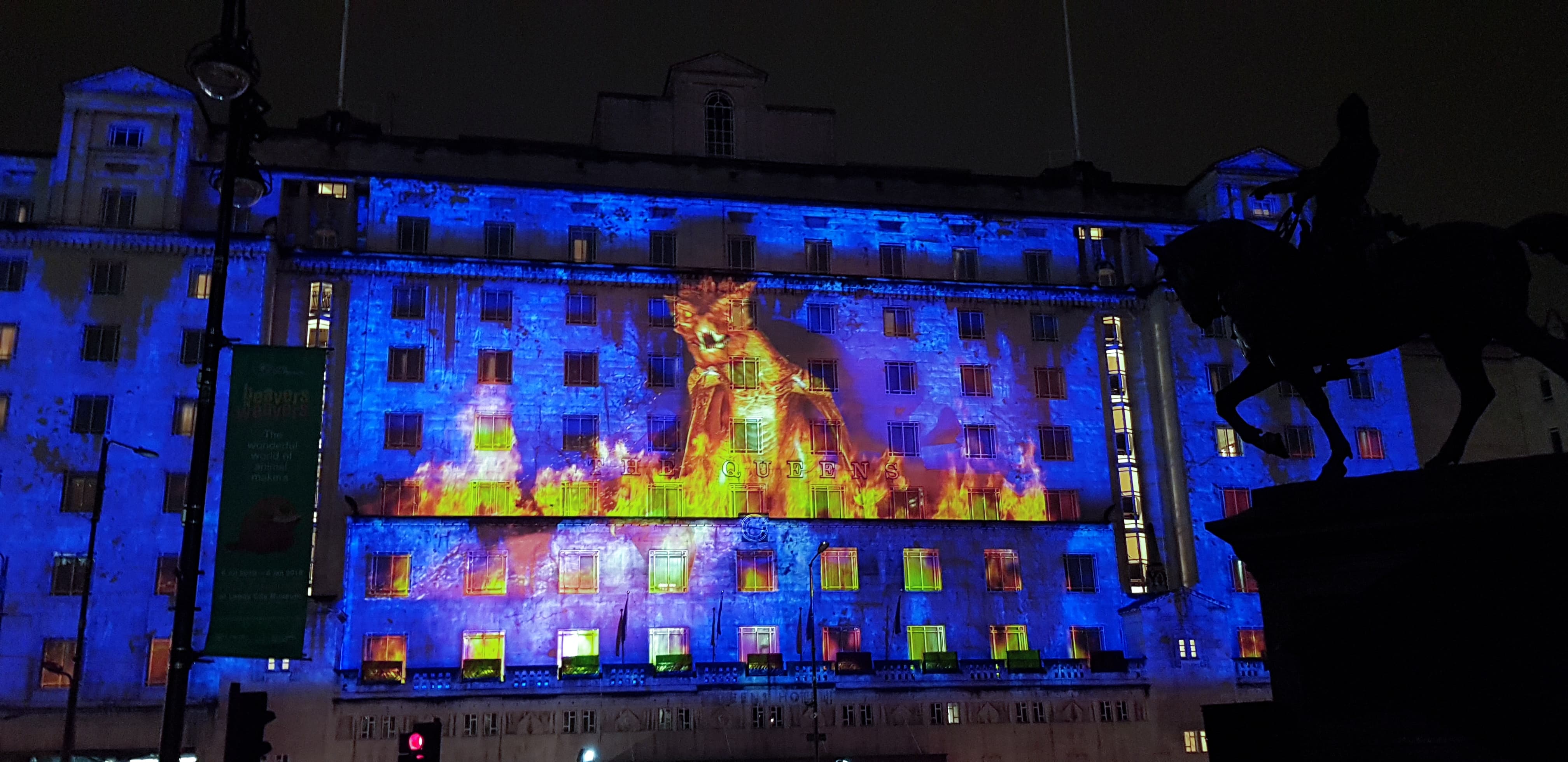 Creative Studio Belgium developed the show stopping Forgotten. The huge projection of a beastly dragon was one of the must-see installations, with showings happening every five minutes.
– The Stars Come Out at Night at Holy Trinity Church
This tranquil installation was certainly a hidden treasure. The projection suited its location perfectly and provided serenity in an otherwise bustling environment. This provided visitors with quiet space to sit and absorb the artwork, before heading back outside to explore.
– Lampshades Bouquet outside the Town Hall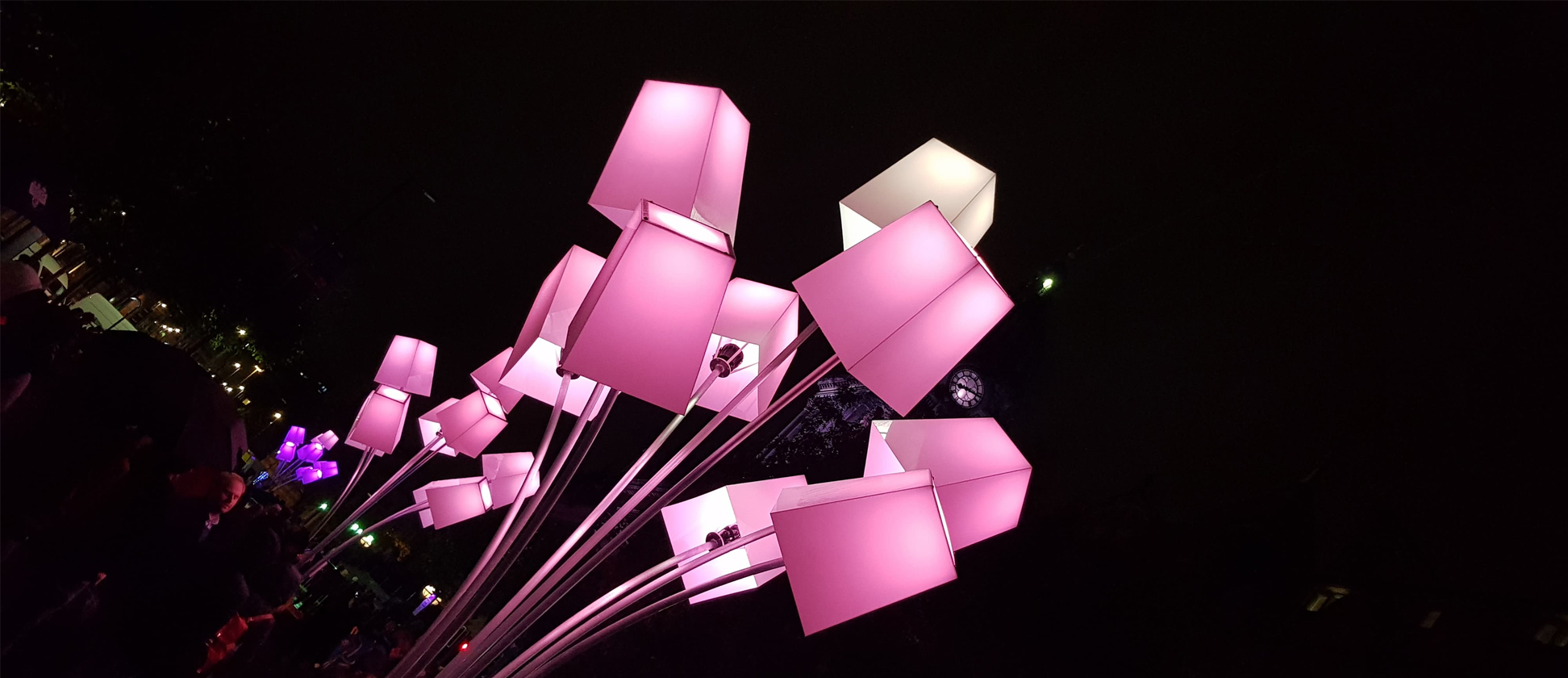 This installation perfectly matched its description. The impressive light bouquets were certainly one of the most Insta-worthy pieces of artwork. This is likely due to the prominence of the art's location, placed right outside the city gallery.
– Things got interactive at Victoria Gate
Your Face in Lights in the Victoria Zone allowed social media users to submit their images to be displayed on a 46 ft projection over the entrance of Victoria Quarter. The Facebook live stream allowed users to interact even if they couldn't attend the event. It might not have been the most artistically impressive display, but it was certainly uniquely inclusive. 
The importance of placemaking
Last year the festival attracted over 80,000 visitors from local communities and further afield.
Orchestras, circus performers and everything in between got involved. This created a truly multi-arts event that everyone could enjoy. Many of these exciting performances took place in Light Night's SOYO Zone, consolidating the area as Leeds' cultural hub over the two special days. 
The free Light Night rider bus provided a great hop-on hop-off public transport service for visitors. This made accessing each zone easy and stress-free – ideal this year given the poor weather on Friday night. The event also brought street food and an artisan market to the city centre.
Light Night is totally inclusive and appealing to a wide demographic including families, the Instagram-obsessed, night out regulars and out-of-town explorers. It not only attracts attention from those already in Leeds – it pulls in thousands of additional visitors each year to boost the city's local economy and reputation.
As placemaking experts, we know the long-lasting impact of annual events. The increased hype, marketing buzz and community involvement in the run-up to the event elongates the effect of Light Night long before the actual date arrived. Similarly, those perhaps more unfamiliar with Leeds or unlikely to become regular visitors now have a stronger association with the city. This boosts its attraction and positive perception.
Why Leeds can be proud of Light Night
Light Night is part of a wider initiative, Light up the North. Seven light festivals are taking place in seven cities across the North of England – pretty impressive stuff! 
The city is beginning to strengthen its brand year-on-year, with events such as Light Night bringing the community together. Putting the city on the creative cultural map is just one of Leeds 2023's big ideas – and we can't wait to see what's up next.
We're always keeping our eye our for the latest Leeds events. Follow us on Twitter or Instagram to see what we're up to.